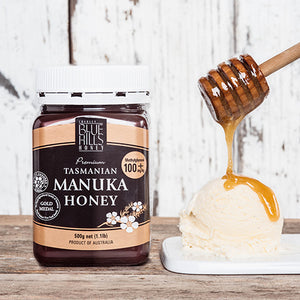 Tasmanian Manuka Honey
Manuka Honey - MGO 600-400-250-100-30
Regular price
$15.00
$0.00
The manuka bush (Leptospermum scoparium) is found in remote parts of Tasmania and New Zealand. It is only found in Australia and New Zealand.
Indeed, "Evidence suggests that L. scoparium originated in Australia before the onset of the Miocene aridity, and dispersed relatively recently from eastern Australia to New Zealand.
Processed honeys, including that derived from the manuka bush, have been produced in Tasmania since European bees were introduced here in the early 1830s. In addition, there is also documented evidence back to 1884 for the term 'Manuka' being produced in Tasmania.
Manuka honey has long been reputed for its antibacterial properties. In 2006, the naturally occurring compound, Methylglyoxal, was identified as the dominant antibacterial constituent of manuka honey. Blue Hills takes great care to ensure the purity of Blue Hills Manuka honey and its Methylglyoxal content has been measured and labelled on this jar.
Blue Hills Manuka honey is sold as 400+, 250+, 100+, and 30+ referring to the milligrams of Methylglyoxal per kilogram (mg/kg) of honey.
Enjoyed for its eating quality as well as its other benefits, manuka honey has a strong, earthy flavour.
All Blue Hills honey are "cold extracted", ensuring all of the natural components of the honey are retained.
Ingredients: 100% Cold-Extracted Tasmanian Manuka Honey.
Active strength: 30+, 100+, 250+, 400+.  Available in: 250gm, 500gm jars. 
MGO 30+ is available in a 1kg Food Grade Pail and in a carton of 12 x 1kg Food Grade Pails.  MGO 100+, 250+, and 400+ are not available in 1kg size.
---
Share this Product